Yule Festival 2019
12/17/2019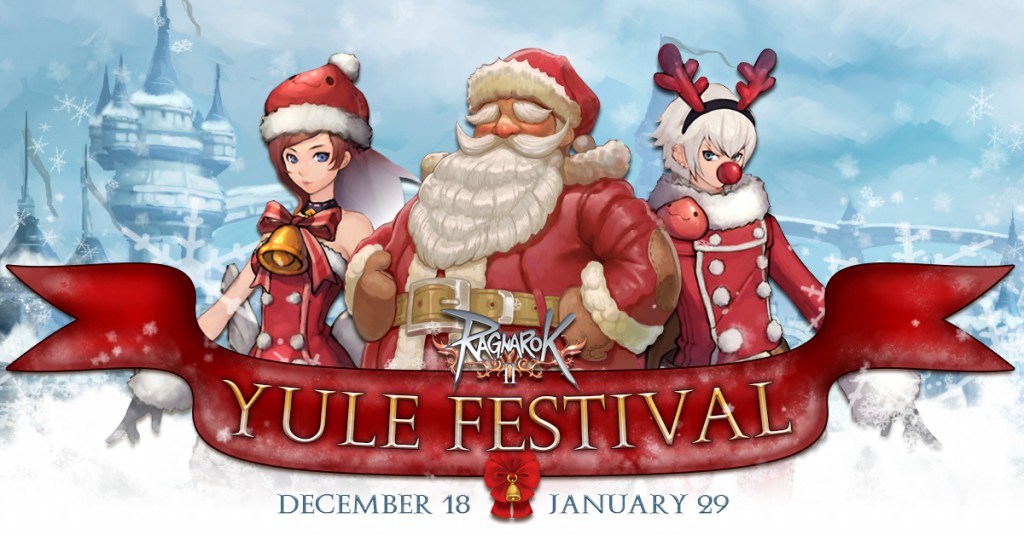 Yule Festival 2019
December 18 to January 29, 2019
Ho Ho Ho! Merry Yule Festival! The Yule Festival jingles its way to Rune-Midgarts December 18th. This year, join Santa on his quest to unlock the secrets of the Holiday Spirit, and to extend holiday cheer to places near and very, very far.
Getting Started
To begin, find the familiar face of Vixen near the center of Prontera. She'll get you started on your quest to help out the Big Guy himself... Santa Claus!

Keep in mind... There is a level requirement to join these quests.

Vixen will only offer quests to players level 25 and above.

The Holiday Cheer daily quest is available to players level 40 and above.

The final phase of Santa Quests are only available to those ML20 and above.
A Little Help From Your Friends!
As you set out on your quest for Santa, you will be asked to gather items from monsters around the world. One quest will require you to retrieve an item from the Santa Poring Cave. In order to complete this portion of the quest, the server must work together to gather Wrapping Paper and unlock the first tier of shop items from the Santa Poring vendor in Prontera.
To complete the quest for Sticky Map Pieces, you must enter the Santa Poring's Cave and kill the large Santa Poring. You can buy the warp ticket for this dungeon from the Santa Poring in Prontera.
Note: Loot may not display on the Santa Poring, use your auto-loot or "R" key to loot their corpses.
| | |
| --- | --- |
| As Santa Claus is out on assignment, he has left a Santa Poring in his usual spot near the center of Prontera. You can donate wrapping paper and receive Santa's Blessing and Poring Cave tickets here. | |
That's a Wrap!
Wrapping Paper will be a world drop throughout the event. Collect Wrapping Paper, exchange it for upgraded versions of Ripped, Nice, and Shining Wrappers. Donate Shining Wrapper to the Santa Poring to unlock the Santa Poring Warp Scroll and upgraded versions of Santa's Blessing.
Lutie Snowflake Exchange
Lutie Snowflakes will be a world drop throughout the event as well as rewards for quests, and Lutie Snowflakes and its upgraded versions will be the primary currency for the event. As in previous years, Lutie Snowflakes can be upgraded by exchanging them with the vendor.
This year, you'll be able to obtain the previous year's titles:
Christmas Wreath Title!
Physical Attack + 400 / Magical Attack + 400 / Defense +500 / VIT + 150
You can do this by collecting these items to eventually earn the Lutie Santa Piece!

Christmas Rudolph Title!
Physical Attack + 400 / Magical Attack + 400 /Critical Hit + 150 / Penetration + 50
You can do this by collecting snowflakes and ice to eventually earn the Rudolph Glow Ice!

Two brand new titles will also be available this year. One from completing Santa's quest, and another from the vendor in exchange for Lump of Lutie Ice. We're keeping the details of the rest of the quests, titles, and vendor rewards under wraps for now-- so log in today and see for yourself what Santa has brought you!
Stocking Stuffers
If you are looking for some stocking stuffers don't forget we have the Yule Festival themed items for sale!
Yule Festival Box!
A great gift to supplement items for titles!